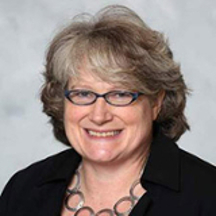 Phone:

317-274-8812

Email:

maott@iu.edu

Website:
Bio:
Mary Ott, MD, MA, is Professor of Pediatrics at IU School of Medicine and a Faculty Investigator at the Indiana University Center for Bioethics.  She is board certified in Pediatrics and Adolescent Medicine and provides adolescent healthcare at Riley Hospital for Children at IU Health. She is also the Fellowship Director for Adolescent Medicine at Riley Hospital.
Dr. Ott received her BA from Princeton University, her MD from University of Pennsylvania, and her MA in Philosophy (Bioethics) from Indiana University-Purdue University, Indianapolis. She completed her residency at UC San Francisco School of Medicine.
Dr. Ott's research interests are adolescent pregnancy and HIV prevention, pediatric research ethics, and adolescent consent and confidentiality. Her research includes implementation sciences approaches to community-based adolescent pregnancy preventions, adolescent contraceptive access, ethics of research with vulnerable populations, and global adolescent health.  Her work has been funded by the NIH, the Society for Family Planning Research, the Robert Wood Johnson Foundation, and the Patient Centered Outcomes Research Institute (PCORI).
Dr. Ott co-authored the influential American Academy of Pediatrics position statement on Contraception for Adolescents, is a member of the Guttmacher Institute's Editorial Advisory Committee for Perspectives on Sexual and Reproductive Health, and is the adolescent editor for the editorial board of the Journal of Pediatrics.
Teaching:
Selected Guest Lectures:
School of Medicine, IUPUI: GRDM G504 – Introduction to Research Ethics, "Research with Protected Subjects: Children and Adolescents" and "Community Based Research" 
Research:
Research Interests:
Adolescent medicine

Adolescent risk-taking and sexual behavior

Minor consent to research and biobank research

Global health and research
Selected Publications:
Funding:
Selected Grants:
Community Solutions to Adolescent Research Consent - Minor Consent for Biomedical HIV Research (C-START) (Co-PI)
This project will test public deliberation as a method for improving consent processes for engaging vulnerable populations in clinical research on sensitive or stigmatizing health problems. The investigators use minor consent for biomedical HIV prevention research as an exemplar case. The primary hypothesis is that participation in public deliberation will change participant's acceptability of different models of minor consent.
Service:
Selected Activities:
Executive Council for the Section on Bioethics, American Academy of Pediatrics, 2014–present
Board member, Adolescent Sub-board, American Board of Pediatrics, 2015–present
Board member, PROS Steering Committee, American Board of Pediatrics,
Editorial Advisory Committee, Perspectives in Sexual and Reproductive Health, 2008–present
Editorial board member, Journal of Pediatrics, 2017–present