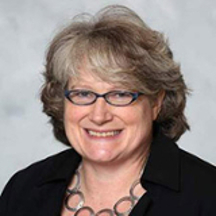 Phone:

317-274-8812

Email:

maott@iu.edu

Website:
Introduction
Mary Ott, MD, MA, is Professor of Pediatrics at IU School of Medicine and a Faculty Investigator at the Indiana University Center for Bioethics.  She is board certified in Pediatrics and Adolescent Medicine and provides adolescent healthcare at Riley Hospital for Children at IU Health. She is also the Fellowship Director for Adolescent Medicine at Riley Hospital.
Dr. Ott received her BA from Princeton University, her MD from University of Pennsylvania, and her MA in Philosophy (Bioethics) from Indiana University-Purdue University, Indianapolis. She completed her residency at UC San Francisco School of Medicine.
Dr. Ott's research interests are adolescent pregnancy and HIV prevention, pediatric research ethics, and adolescent consent and confidentiality. Her research includes implementation sciences approaches to community-based adolescent pregnancy preventions, adolescent contraceptive access, ethics of research with vulnerable populations, and global adolescent health.  Her work has been funded by the NIH, the Society for Family Planning Research, the Robert Wood Johnson Foundation, and the Patient Centered Outcomes Research Institute (PCORI).
Dr. Ott co-authored the influential American Academy of Pediatrics position statement on Contraception for Adolescents, is a member of the Guttmacher Institute's Editorial Advisory Committee for Perspectives on Sexual and Reproductive Health, and is the adolescent editor for the editorial board of the Journal of Pediatrics.
Teaching
Selected guest lectures:
School of Medicine, IUPUI: GRDM G504 – Introduction to Research Ethics, "Research with Protected Subjects: Children and Adolescents" and "Community Based Research" 
Research
Adolescent risk-taking and sexual behavior
Selected Publications:
Selected Grants:
Understanding Health Risk in the Context of Adolescent Development
Role: Principle Investigator
Dates: 2006 – 2011
Funder: National Institutes of Health
Description: This research focused on advancing a developmental understanding of adolescent relationships, sexual decision-making, and sexual behavior, and the implications of these developmental changes for HIV and pregnancy prevention. This developmental understanding is a necessary component to the uptake and effectiveness of any adolescent prevention program. 
Understanding Reproductive Health Risk of a Community-based Sample of Adolescent Boys
Role: Principle Investigator
Dates: 2010 – 2011
Funder: National Institutes of Health
Description: Furthering previous work on developmental understanding of reproductive health risk of a community-based sample of adolescent boys. This work demonstrated the strengths of mixed methods approaches (qualitative data, quantitative survey data, and biomarker data) in identifying and elucidating the mechanisms by which adolescent development influences HIV and pregnancy risk. It describes the attitudes and expectations leading to sexual risk, and the predictors of adolescent behaviors, including poorly understood aspects of sexual decision-making, such as sexual initiation, and difficult to intervene phenomenon such as condom non-use in established relationships. Much of this work was done with community-based samples.
Global Adolescent Health and Research
Selected Publications:
Embleton L, Ott MA, Wachira J, Naanyu V, Kamanda A, Makori D, Ayuku D, Braitstein B. Adapting ethical guidelines for adolescent health research to street-connected children and youth in low- and middle-income countries: A case study from western Kenya.BMC Medical Ethics 2015; 16(1):89. PMID: 266873278 PMCID: PMC4684915.
Pfeiffer EJ, Maithya HMK, Ott MA, and Wools-Kaloustian K. Dangerous Bodies, Unpredictable Minds:  HIV/AIDS, Mental Disorders, and Stigma Syndemics in Western Kenya. Spoiled Identities, Stigma Syndemics and the Making of BioSocial Health, edited by Lerman S, Ostrach B, and Singer M. University of Chicago Press. 2017.
Embleton L, Nyandat J, Ayuku D, Sang E, Kamanda A, Awaya S, Nyandiko W, Gisore P, Vreeman R, Atwoli L, Galarraga O, Ott MA, Braitstein B. Sexual Behavior Among Orphaned Adolescents in Western Kenya: A Comparison of Institutional- and Family-Based Care Settings. J Adolescent Health 2017; 60: 417-24.  PMID: 28110864 PMCID: PMC5389113. 
MacDonald KR, Apondi E, Braitstein P, Ott MA, Keter A, Millar H, Nyambura M, Kaaria A, Wachira J. The Confluence of Pregnancy and New Diagnosis of HIV among Adolescent Women in Western Kenya.Journal of Adolescent Health 2017;60(2): S83–S84. Society for Adolescent Health and Medicine Annual Meeting. New Orleans LA, March 10, 2017.
Adolescent Research
Selected Publications:
Nelson LR, Stupianski NW, Ott MA. The influence of age, health literacy and affluence on adolescents' capacity to consent to research.Journal of Empirical Research on Human Research Ethics 2016; 11(2):115-21. PMID: 27009303.   
Alexander AB, Ott MA, Lally MA, Sniecinski K, Baker A, Zimet GD. Adolescent Decision Making about Participation in a Hypothetical HIV Vaccine Trial.Vaccine 2015; 10;33(11):1331-7.
McGregor KA, Hensel DJ, Waltz AC, Molnar E, Ott MA. Adolescent Sexual Behavior Research: Perspectives of Investigators, IRB Members, and IRB Staff about Risk Categorization and IRB Approval.IRB: Ethics and Human Research 2017; 39 (4):17-20.
Selected grants:
Improving Methods for Conducting Patient-Centered Outcomes Research
Role: Co-Principle Investigator (Co-PI: Emily Knopf, PhD, MPH, RN)
Dates: 2019 – 2022
Funder: PCORI
Description: This research explores the use of public deliberation in diverse communities to improve the consent processes for clinical research.
Biobanking:  Pediatric and Adolescent
Selected Publications:
For additional research areas and projects, please see CV or website at IU School of Medicine. Dr. Ott's complete list of published works can be found in My Bibliography
Service Activities
Selected Activities:
Executive Council for the Section on Bioethics, American Academy of Pediatrics, 2014–present
Board member, Adolescent Sub-board, American Board of Pediatrics, 2015–present
Board member, PROS Steering Committee, American Board of Pediatrics,
Editorial Advisory Committee, Perspectives in Sexual and Reproductive Health, 2008–present
Editorial board member, Journal of Pediatrics, 2017–present