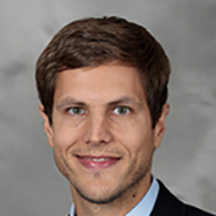 Phone:

(317) 278-4045

Email:

tkasperb@iu.edu

Website:
Introduction:
Dr. Kasperbauer is a Postdoctoral Fellow at the Indiana University Center for Bioethics and the Indiana University School of Medicine. He received a bachelor's degree from Simpson College, double majoring in Philosophy and Psychology. He then went on to receive his master's degree in Psychology and Ph.D. in Philosophy from Texas A&M University.  He completed a postdoctoral fellowship previously in the Section for Consumption, Bioethics, and Governance at the University of Copenhagen. He has held visiting research appointments and fellowships at the Potomac Institute for Policy Studies, George Washington University, and the Hastings Center.
Dr. Kasperbauer's research interests include privacy and sharing of health data, particularly genetic information and (re)identification, regulation of health technology, and the moral psychology of attitudes toward animals and the environment. He is currently working on several projects pertaining to communication and retention of informed consent in large-scale biobanking.
Teaching:
Selected Guest Lectures:
"Informed Consent," Introduction to Research Ethics, IUPUI
"Biobanks and Big Data," Responsible Conduct of Translational Research, IUPUI
"Biobank Consent and Autonomy," Ethics, Autonomy, and Consent, IUPUI
"Privacy and Biobanking," Medical Ethics and Professionalism, IU School of Medicine
"Biobanks and Ethics," Drug Discovery, IU School of Medicine
"Data Ethics: De-Identification," K12 Lecture Series
Research:
Privacy and Sharing of Health Data:
Selected Publications:
Biobank Consent
Selected Publications:
Kasperbauer TJ, Schmidt K., Thomas, A., Perkins S., Schwartz PH (Forthcoming). Incorporating biobank consent into a healthcare setting: Challenges for patient understanding. American Journal of Bioethics – Empirical. 
Kasperbauer, T.J. & Schwartz, P. H. (2019). Measuring understanding and respecting trust in biobank consent. American Journal of Bioethics, 19, 29-31.
Kasperbauer, T.J., Gjerris, M., Waldemar, G., & Sandøe, P. (2018). Communicating identifiability risks to biobank donors. Cambridge Quarterly of Healthcare Ethics, 27, 123-136.
Other Topics in Bioethics
Kasperbauer, T.J. (2018). Subhuman: The moral psychology of human attitudes to animals. Oxford University Press.
Kasperbauer, T.J. (2017). The permissibility of nudging for sustainable energy consumption. Energy Policy, 111, 52-57.
Kasperbauer, T.J. (2017) Should we bring back the passenger pigeon? The ethics of de-extinction. Ethics, Policy, & Environment, 20, 1-14.
Kasperbauer, T.J. (2016). The implications of psychological limitations for the ethics of climate change. Environmental Values, 25, 353-370.